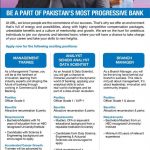 Job Opportunities in UBL
November 1, 2023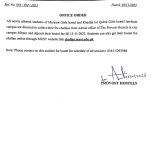 Hostel Allotment Lists for Maryam Girls Hostel & Khadija Tul Kubra Girls hostel Jarikas
November 3, 2023
Brigadier Younus Javed Inaugurated First Cybersecurity Workshop at MUST, Mirpur AJ&K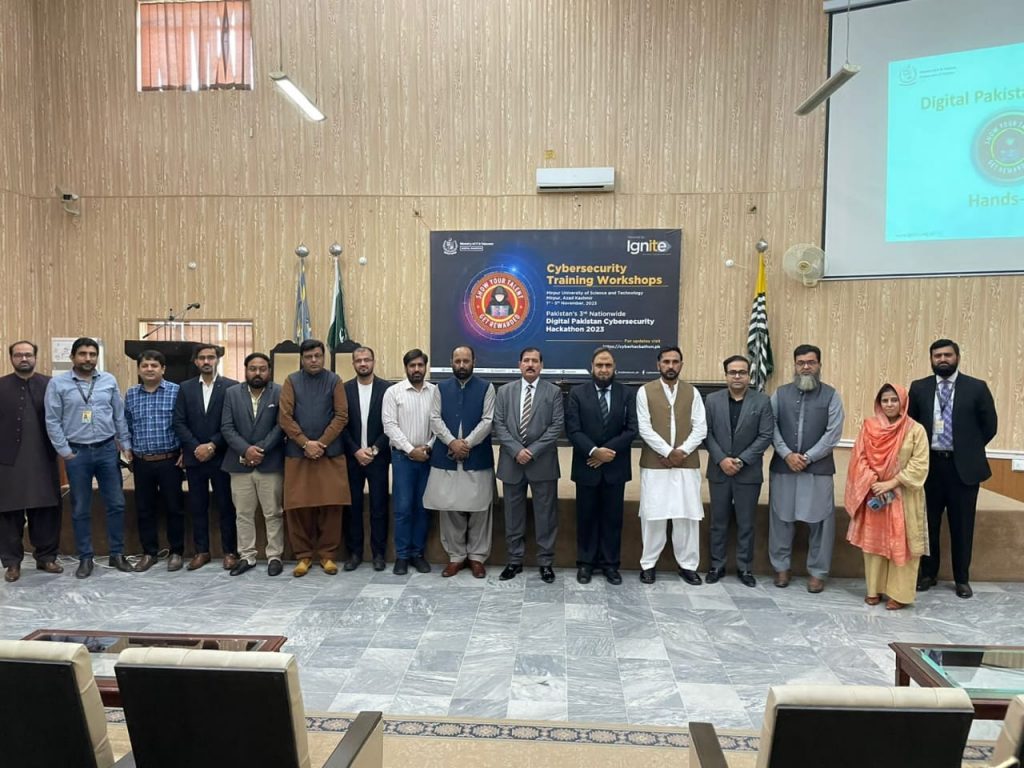 Ignite National Technology Fund hosted its 3rd Digital Pakistan Cybersecurity Workshop 2023 all over Pakistan & first ever at Mirpur University of Science and Technology MUST, Mirpur AJ&K which aims to assist in improving cybersecurity readiness, protection and incident response capabilities of the country by conducting cyber drills at the national level. The workshop is designed with a dual purpose, as a platform for cooperation, information sharing and discussions on current cybersecurity issues as well as to provide hands on experience and learning for National cybersecurity resources.
Ignite National Technology Fund is a premier National organization dedicated to promoting an innovation and research commercialization ecosystem across Pakistan. It is focused on making Pakistan a player in the knowledge economy by supporting startups focused on 4th industrial wave technologies and by addressing gaps in the entrepreneurial ecosystem. Cybersecurity is key to achieving the 4th industrial revolution. Keeping in view the importance of Cybersecurity Dr. Sohaib Manzoor Manager Innovation and Commercialization/Lecturer Department of Electrical Engineering grabbed the opportunity for budding talent by organizing Digital Pakistan Cybersecurity Hands-on Workshops 2023 at Mirpur University of Science and Technology MUST, Mirpur AJ&K.
Brig (R) Prof. Dr. Muhammad Younus Javed SI (M), Vice Chancellor Mirpur University inaugurated the Cybersecurity Hands-on Workshop at City Campus of the University. Vice Chancellor appreciated the resource person, trainers from Ministry of IT & Telecom and IGNITE. He also appreciated the efforts of Prof. Dr. Naeem Iqbal Ratyal, Dean Faculty of Engineering and Technology for organising first Cybersecurity Workshop at University, expressed confidence on Faculty of Engineering and Technology of Mirpur University. Prof. Dr. Muhammad Aslam, Dean Faculty of Natural and Applied Sciences, Dr. Muhammad Altaf, Director Student Affairs, Dr. Nouman Ali, Chairman Software Engineering, Dr. Khurram Pervaiz Amber, Chairman Mechanical Engineering, Dr. Sajid Hussain Chairman, Computer System Engineering, Dr. Yasir Mehmood Chairman CS&IT, Dr. Tasleem Kausar Director MIT, Mr. Imtiaz Bhatt Director NTC, Mr. Mansoor Gillani Deputy Director IGNITE, Dr. Anwar ul Haq, Assistant Professor Department of Electrical Engineering and Engr. Irfan Jamshed Manager Research Management at Office of Research Innovation and Commercialization also attended the inauguration ceremony.